ANNOUNCEMENTS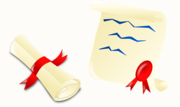 Klausuren im Wintersemester 19/20
Die Klausur zur Vorlesung Telematik findet am 17.02. statt. Anmeldeschluss für die Klausur ist am 10.02.

Die Klausur zur Vorlesung Einführung in Rechnernetze findet am 17.03. statt. Die Anmeldung zur Klausur ist möglich vom 01.02. bis zum 04.03.

Nähere Informationen zur Klausurdurchführung erhalten Sie nach Anmeldeschluss an ihre KIT E-Mailadresse. Abmeldeschluss ist jeweils der Tag vor der Klausur.
Praktika im Wintersemester 19/20
The new pracitcal courses for WS 2019/20 are now available. You can register online using one of the following links: https://go.wiwi.kit.edu/pdt1920 for Praxis der Telematik (6 Credit Points, Telematics in Practice) and https://go.wiwi.kit.edu/pe1920 for Protocol Engineering (4 Credit Points) . Registration is open util 2019-10-10.
Seminar Hot Topics In Networking (WS19-20)
The seminar will be held in English. Registration is from 12.08.2019 to 27.09.2019 (12:30h), to sign up please visit https://s.kit.edu/htn1920
The first meeting will be on Tuesday 22.10.2019, 13:15h (Kaiserstr. 40, 1. OG, R1.03)
Preliminary dates for the seminar talks are:
Thu 30.1.2020, 14:00-16:15h
Fri 31.1.2020, 14:00-15:45h
NEWS
IFIP NETWORKING 2019
Hauke Heseding und Mario Hock haben ihre Forschungsergebnisse auf der IFIP Networking (20.-22. Mai 2019) in Warschau vorgestellt. Die Titel der Arbeiten lauten "Balancing Performance Characteristics of Hierarchical Heavy Hitters" und "FFBquick: Fast Convergence to Fairness for Delay-bounded Congestion Controls".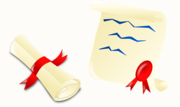 KuVS-Preis (Masterarbeit 2018)
Johannes Glöckle hat den KuVS-Preis (Masterarbeit 2018) gewonnen. Die Abschlussarbeit mit dem Titel "Ressourceneffiziente Monitoringstrategien zur Unterstützung NFV-basierter DDoS-Mitigation" wurde von 25. Oktober 2017 bis 24. April 2018 bearbeitet.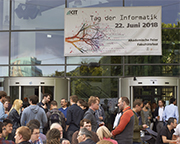 Telematics as the best core lecture
The KIT Faculty of Computer Science awards the lecture Telematics as Best Master Lecture in the period from summer semester 2017 to winter semester 2017/2018 on the basis of the semester-based teaching evaluation of KIT and honors Prof. Martina Zitterbart, Robert Bauer, Sebastian Friebe, Polina Holzmann, Hauke Alexander Heseding, Mario Hock for the particularly successful participation in teaching.