NEWS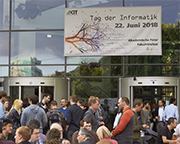 Telematics as the best core lecture
The KIT Faculty of Computer Science awards the lecture Telematics as Best Master Lecture in the period from summer semester 2017 to winter semester 2017/2018 on the basis of the semester-based teaching evaluation of KIT and honors Prof. Martina Zitterbart, Robert Bauer, Sebastian Friebe, Polina Holzmann, Hauke Alexander Heseding, Mario Hock for the particularly successful participation in teaching.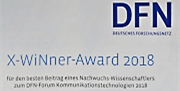 X-WiNer Award 2018 of the DFN
Robert Bauer, Hauke Heseding and Addis Dittebrandt were awarded the X-WiNner-Award for the best contribution of a young scientist in the context of the 11th DFN-Forum Kommunikationsstechnologien 2018. The title of the article was "Teaching Network Softwareization with SDN Cockpit".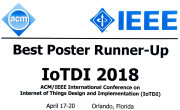 Best Poster Runner-Up
Markus Jung, Florian Rosenthal and Martina Zitterbart were awarded the Best Poster Runner-Up in ACM/IEEE IoTDI 2018, The 3rd ACM/IEEE International Conference on Internet of Things Design and Implementation. Title of the article was "CoCPN-Sim: An Integrated Simulation Environment for Cyber-Physical Systems".